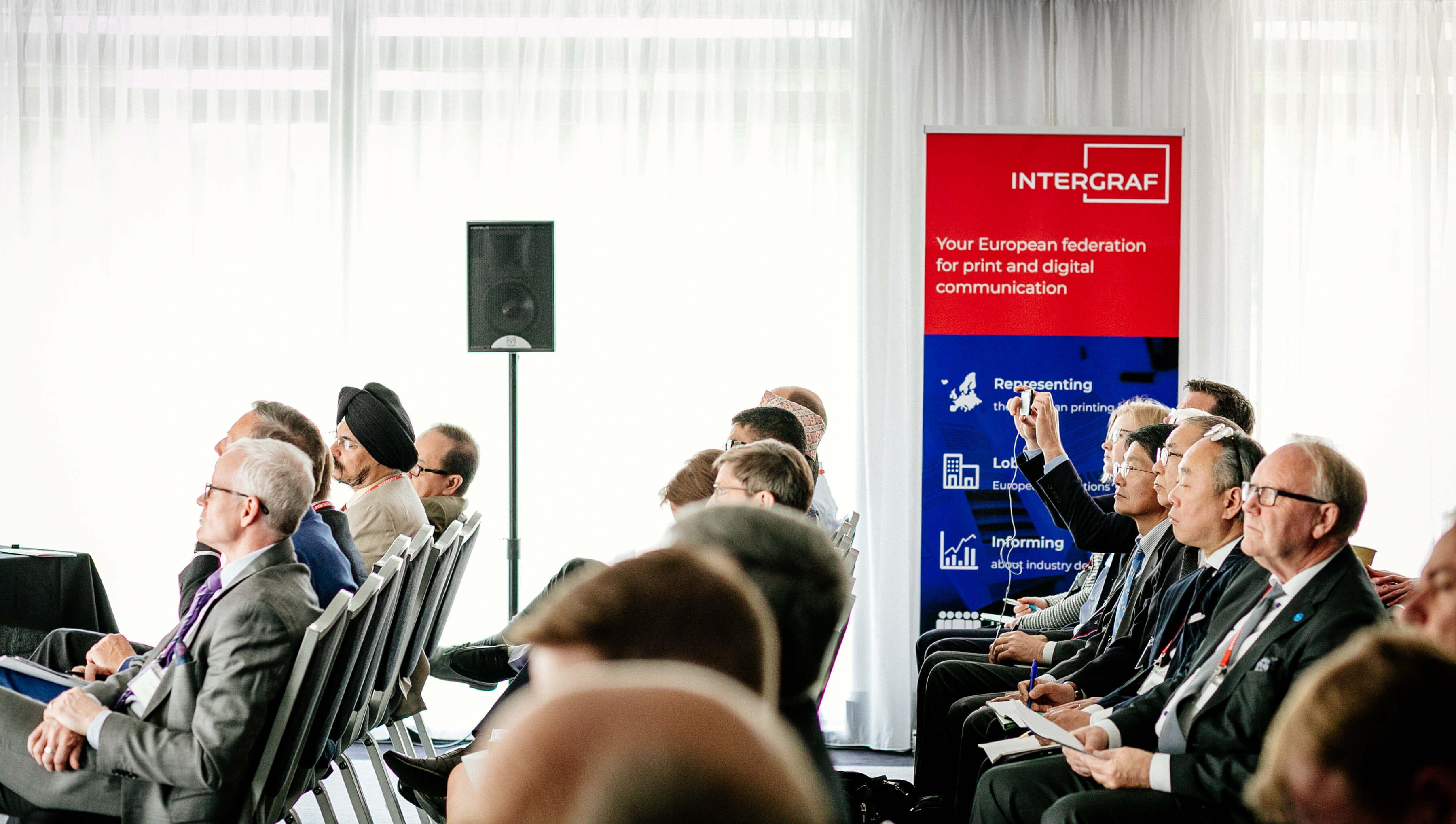 WPCF joins Print Matters for the Future conference 2019
A record 76 international delegates from 26 countries joined the latest instalment of Intergraf's annual Print Matters for the Future conference in London at the end of May 2019, supported by the WPCF (World Print & Communication Forum) and BPIF (British Printing Industries Federation).
Every year in late spring, Intergraf organises the 'Print Matters for the Future' conference, where the most pertinent topics to the European graphic industry are explored and presented. At the event in Syon Park, London last month, 8 expert speakers presented their views on the sector to a participatory, international audience. The event was moderated by Michael Makin, President of the WPCF and President & CEO of Printing Industries of America (North America) and Cees Verweij, President of Intergraf and Chairman of KVGO (NL).
The conference began with a presentation from Charles Jarrold, CEO of our host, the British Printing Industries Federation (BPIF). He informed participants about the state of the graphic industry in the UK, highlighting that "Overall, there are lots of dynamic, interesting things going on in our industry". Charles went on to explain how "It's absolute nonsense that print is failing", pointing out how amazing print is at "providing engagement and depth of experience." He also clarified that the UK's economy continues to do OK, despite continued Brexit uncertainty.
Charles was followed by Faye Hawkins, Managing Director of First Base Unlimited for Print Power, who explained that creative agencies already understand that "Print has an impact because it stays around for longer […] – it has a lot of longevity". She highlighted the effectiveness of print in marketing campaigns and its particular importance for creatives, who must be able to deliver their desired message in a single-page print ad, or it does not work. However, Faye make clear that it still remains important to change the minds of some agencies and many clients' attitudes towards print, because ultimately, the direction and budget of any marketing campaign is the client's decision to make.
Next, Professor Adriaan van der Weel presented the results of the COST Action E-READ project, which shows clearly that "People do tend to read more shallowly from screens". Reading on paper "yields better comprehension outcomes" – even for younger people (sometimes described as 'digital natives'). In fact, "Screen inferiority effects compared to paper have increased rather than decreased over time, regardless of age group", proving that the notion of 'digital natives' when it comes to reading does not exist. These conclusions are particularly important for elementary schools, which could lose up to 2/3 of their yearly increase in reading comprehension by using digital reading materials over paper. For more information about the important conclusions of this research see the Stavanger Declaration.
In his presentation about the latest developments in paper technology, including paper made from vinegar, professor Rodrigo Martins from the New University of Lisbon asked "Can we transform science fiction into reality?" concluding that "We're very close to this". Professor Martins made clear that printers have to "change our paradigm to meet the challenges of the future". Further speakers at Print Matters for the Future included Alejandro Mata Lopez from Fastmarkets RISI, who discussed the details of recent developments in paper and pulp prices, stating that "The European graphic paper market was clearly paper producer driven until 2018, but conditions are rapidly changing in favour of buyers". Garry Mellor from the BPIF presented the details of an ongoing project which produces industry best practice guides to make operational improvements in printing companies. According to Garry, "Everyone does something well. The trick is to identify this best practice and systematically share it throughout the organisation."
In the final presentations of the day, delegates heard the insights of Luke Lloyd, Market Research Manager at the International Post Corporation, which carries out regular surveys on trends affecting the postal sector – including eCommerce, mobile commerce, direct mail, advertising and consumer behaviour. Luke demonstrated that "Print is seen more positively than email or online ads", contrary to popular belief. Bernd Zipper, Founder & CEO of zipcon consulting GmbH, closed the conference with his views on online print and the wider industry, stating that "print won't die; and it will not become worthless; but worthless printers will die". He explained that the industry is experiencing a "Zeitenwende" ("turn of an era"), in which "Transforming companies have to change to survive in the competitive arena."
In a conclusion which adequately sums up the whole conference, Bernd Zipper affirmed that "Print is transforming and printers need to get on board."
For more information about the next Print Matters for the Future conference in 2020 keep an eye on Intergraf's website.
Speakers
The UK Printing Industry: Charles Jarrold, CEO of the British Printing Industries Federation
How Creative Agencies see Print: Faye Hawkins, Managing Director of First Base Unlimited for Print Power
Digital Environments Also Pose Challenges: Professor Adriaan van der Weel, Extraordinary Professor of Book Studies, Leiden University
The Influences on and Development of Paper and Pulp Prices: Alejandro Mata Lopez, Senior Economist for European Forest products at Fastmarkets RISI
Paper Electronics and the Challenges of an Eco-Sustainable Industry: Professor Rodrigo Martins, Professor at the New University of Lisbon and President of the EurASc (European Academy of Sciences)
Print Trends, A Guide to Improving Operational Performance: Garry Mellor, Senior Process Improvement Engineer at Vision in Print
Advertising, eCommerce and How Direct Mail Affects Consumers: Luke Lloyd, Market Research Manager at the International Post Corporation
Online Print: Intermediate Stage to Print 2.0 or a Revolution? Bernd Zipper, Founder & CEO of zipcon consulting, GmbH and President of Initiative Online Print